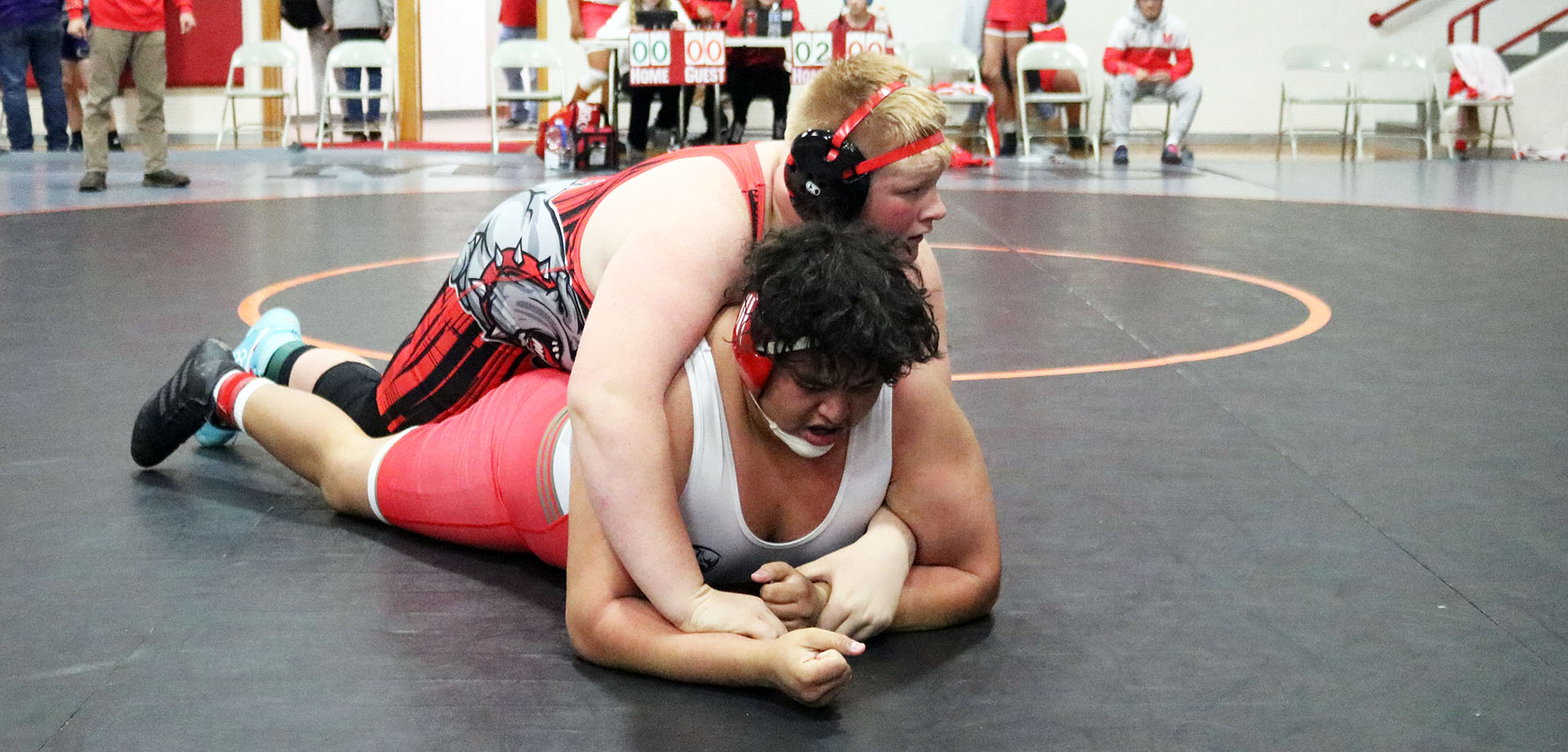 On December 9 and 10, the Kimberly High School wrestling team went to its first tournament of the season. This tournament was the Tim Matthews Invitational hosted annually by Jerome. The boys wrestling for varsity were Talan Volkel, Dallin Walters, Cruz Yinquez, Tennessee Owens, Koen Barendregt, Gage Carter, Michael Crispin, and Lucas Williams. The varsity boys wrestled for both days while the JV boys only wrestled on the tenth. 
The boys that wrestled JV were Tidus Hoffman, Will Vanderkooi, Marcus Corona, Teague Gunnell, Aiden Mattair, Liam Browning, Aiden Widman, Brady Dille, Brayln Carter, Bryton Richard, Damiyn Padron, Braigen Prudent, JJ Morquecho, and Bradley Hartgrave. These wrestlers competed in a separate JV tournament. Some highlights of this JV tournament included a teammate versus teammate match between Brady Dille and Aiden Widman, Will Vanderkooi getting his first win in his wrestling career, and certain wrestlers placing for the first time in the season. 
A multitude of our wrestlers had placed in the tournaments, and this is a list of their names, weight class, and tournament. Placing first in the varsity tournament in the 152-weight class was Tennessee Owens. Lucas Williams placed third in the varsity tournament at the 145-weight class. Koen Barendregt placed fifth at his first high school varsity tournament at the 132-weight class. Talan Volkel placed second in the 113-weight class in the second chance tournament. Marcus Corona placed third in the 170-weight class in the JV tournament. Bradley Hartgrave placed fourth in the 182–weight class in the JV tournament. Brady Dille placed fourth in the 220-weight class in the JV tournament. Teague Gunnell placed third in the 285-weight class. 
Lucas Williams had this to say about his experience at Tim Mathews this year "Tim Matthews was the main eye opener for the start of our wrestling season. We got to see what we were doing good and what we were doing bad."  
When asked about his performance he said, "I feel like I could've done better but I had a tough start wrestling the number one seed. I ended up getting third place, which was better than last year.  
On the week before Christmas break the wrestling team also went to the Wiley Dobbs Invitational. This tournament was hosted on December 16 and 17, with the varsity wrestlers competing at Twin Falls High School and the JV squad going to Canyon Ridge High School. The Bulldogs only had one placer in the tournament, Michael Crispin, who took sixth at the 160-pound weight class.