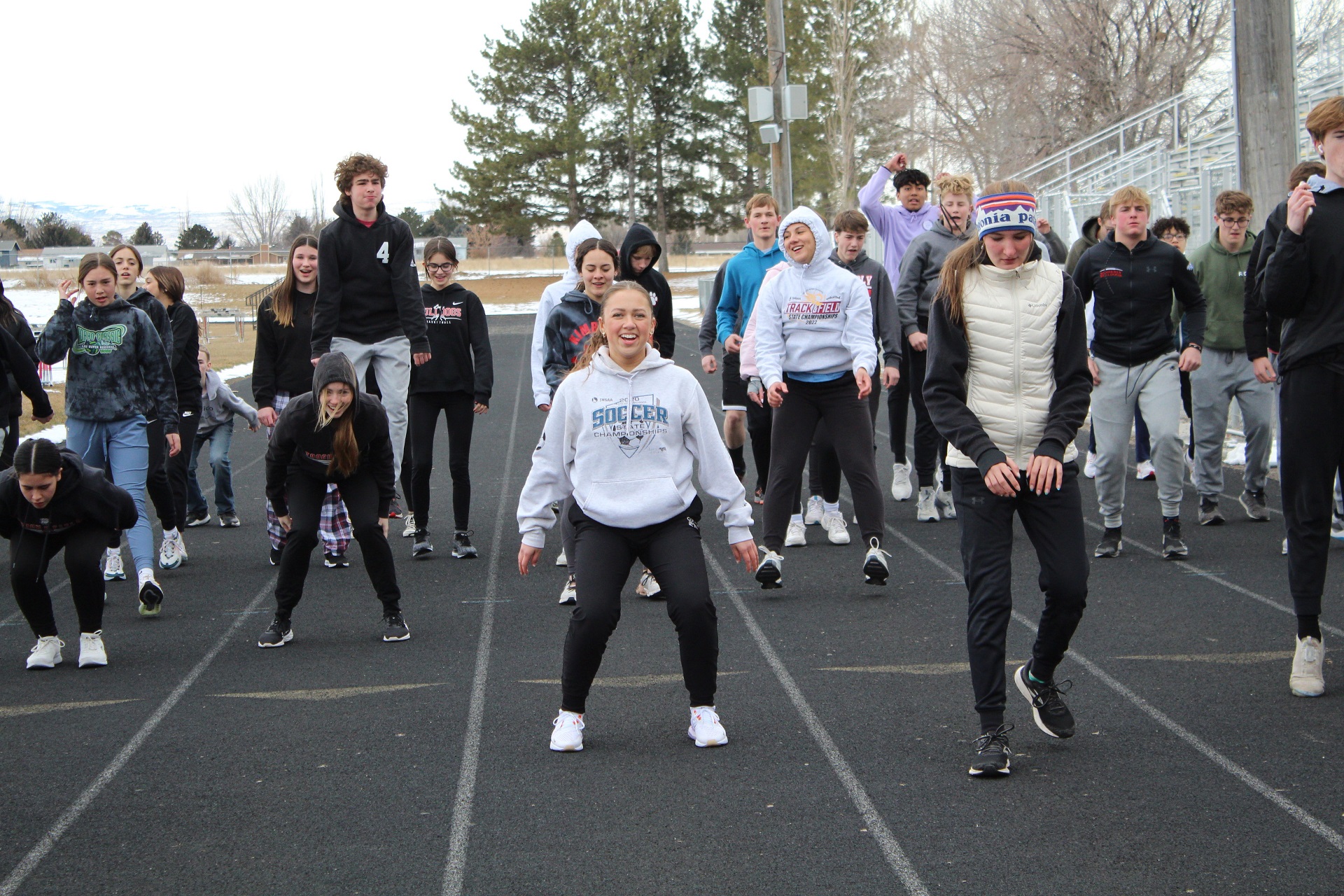 The Kimberly High track and field teams are state-bound! On Wednesday and Thursday of last week, both our girls and boys track and field teams competed in the district championships in Filer. Both teams worked vigorously to prepare for districts. During the week leading up to the event, both teams took it easy as they warmed up and made sure everything felt right at each practice.
"We've been preparing for districts all season with every meet, so this was the day we finally got to show off all our hard work," said junior Sydney Wayment.
Both days were long and hard for the teams, but great results came from it. Kimberly High School will be taking a plethora of students to state. Among them are athletes that got first place in their events, including Mason Jensen (100m), Tegan Newlan (800m), Grayden Devries (1,600m, 3,200m), Grant Murphy (discus), Ellie Statsny (400m), Alli Statsny (800,1,600), Evelyn Hollist (100m, hurdles), and Sydney Wayment (long jump, 100m).
As for group events, Kimberly High is proud to take both the girls and boys 4x100 teams. These teams consist of Carter Campbell, Hector Naverrete, Josh Satterfield, and Mason Jensen; Sydney Wayment, Sydney Fowler, Ella Cummins, and Hannah Baird. The boys 1,600m medley also qualified, its members including Trey Degraffenfried, Hector Naverrete, Jackson Fisher, and Grayden Devries. The girls 4x400 and 800m medley qualified as well. In this event are, Ellie Statsny, Ava Wyatt, Briley Stanger, and Sawyer James; Maizee Olsen, Ella Cummins, Sydney Wayment, and Ellie Statsny.
In order to qualify for state, these athletes had to place in the top four at districts. To have this many state qualifiers is extremely impressive. Overall, our girls scored 113 points and our boys scored 114, making the Bulldogs first overall. State track is what our team is looking forward to next. According to Sydney Wayment, it will be a breeze.
"We probably won't do much at practices because we don't want to be sore during our events." she stated.
Everyone is looking forward to competing at Middleton High School this Friday and Saturday.